It was a mild morning as we woke up with temperatures in the upper 40s, and we'll recover to near 60 degrees early Friday afternoon. But we're watching for a quick drop Friday night.
After near-record warmth, a cold front rushes south and continues to drop us into the 30s and 20s Friday evening into Saturday morning. Wind chills will range from the single digits north to the teens and lower 20s south.
After spring-like warmth, this cold front may cause a quick shock to the system, so bundle up if you have plans for this Friday night!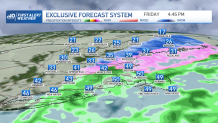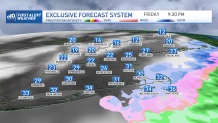 The weekend is trending nice, mostly sunny skies and highs in the upper 30s to lower 40s Saturday. Sunday is growing milder, with temperatures in the upper 40s to lower 50s. Other than that, clouds will increase in coverage Friday and continue to move northeast as a low pressure approaches out of the Carolinas into the Atlantic waters and toward southern New England. Winds will gust around 30 mph on the Cape and Islands.
We'll start off next week with temps in the 50s, and now our trend is for highs "cooling" to the 40s by the second half of the work week.
We may still see snow showers in northern New England, but southern New England is leaning into rain and a wintry mix out west for much of the week. Thursday is the most likely opportunity for that snow chance over central and eastern Massachusetts in the "short-term" forecast.