Although the air Tuesday is, by its nature of origin, a cooler air than Monday, temperatures will be milder for most.
That phenomenon can happen because the air is drier – so we see more sunshine, plus dry air warms effectively with sun, and the gusty wind to 30 mph in morning gusts blows from the northwest, sloping down off the hills and mountains of New England, which also has an effect of warming the air slightly.
When all is said and done, a quieting afternoon wind and ample sun deliver a pleasant day of high temperatures near 50 degrees in southern New England, 40s north. While dry air does warm effectively in sun, it also cools effectively at night, so temperatures will dip to either side of 30 degrees with 20s north overnight Tuesday night, even as clouds increase ahead of an incoming warm front set to open the door to spring air.
When the warm front arrives Wednesday morning, a few scattered showers will develop, but because of the cool overnight temperatures, an isolated pocket of freezing rain is possible near and north of the northern Massachusetts border and a combination of light, wintry mixed showers may cause an isolated slick spot Wednesday morning in a few of these communities.
That said, the temperature will be rising steadily Wednesday as the warm front – the leading edge to new, milder air – moves through and clouds give way to breaks of afternoon sun with an increasing southerly wind helping to bump temperatures into the 50s for many. After a relatively mild overnight Wednesday night in the 40s to near 50 degrees, even abundant clouds Thursday shouldn't stop a temperature rise to over 60 degrees by Thursday afternoon in southern New England, breaking the Feb. 16 record high of 60 degrees in Boston, set in 1910, and challenging the record in someplace like Worcester, where the record is 62 degrees set in 1954.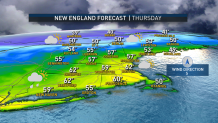 Showers arrive Thursday evening and will fall periodically through Thursday night into Friday – part of a cold front slowly moving toward and through New England, attendant to a storm center passing through Quebec.
Behind the showers and the cold front, new air Friday night will send temperatures plummeting into the teens and 20s with daytime highs Saturday under sunshine more typical of this time of the year in the 30s. Just as quickly as that cool air moves in, however, it moves out – Sunday's return of mild daytime temperatures to the 40s and around 50 degrees comes with increased clouds and early next week we resume a stretch of daytime highs in the 50s.
It does look like another cold front comes calling late in the exclusive First Alert 10-day forecast with dropping temperatures and either rain or snow showers later in the week with the potential for cooler air to find a little more staying power in the days that follow.