February makes a comeback today, but despite the colder air and the wintry wind chills, we'll still manage to make it to 40 or 41 this afternoon. Thankfully, the wind will be collapsing in the afternoon, setting us up for a pleasant, quiet, clear sunset.
Sunday's high clouds will be on top of us from the get-go. We're expecting Sun through clouds for the entire day, but that won't stop the temperatures from making further strides toward 50.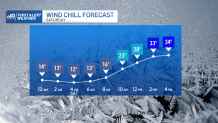 Southwest winds will help in that effort, perhaps becoming a little gusty in the afternoon. We'll stay dry both days.
Next week, the milder air peeks early on, as colder temps infiltrate by Tuesday and Wednesday. Our next significant weather system is up on Wednesday night and Thursday, and there might be enough cold air in place to produce a wintry mix at the onset.
We'll keep our eyes on that storm and the cold temperatures to follow. It appears that winter is still not ready to throw in the towel.
Have a great weekend!