2022 goes down in the books tied for 4th place as the warmest year in recorded history. This falls short of the number one slot in 2021 and bests 2020 at 5th place.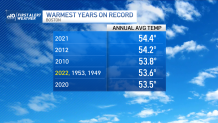 I'm sure you've caught onto the theme already.
We're continuing this mild stretch straight through midweek. Although Monday's temperatures will slump a bit, we're still holding in the 50s, and the Winter Classic looks spectacular at Fenway. Breezes remain light and the skies remain mostly sunny for the afternoon.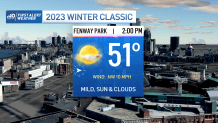 Clouds will be on the approach Tuesday as a storm system rockets across the country on a fast-moving pattern. We can expect the showers to break out by afternoon, along with more temperatures in the 50s. Those showers taper off late Tuesday night, as we away the final slug of rain Wednesday night.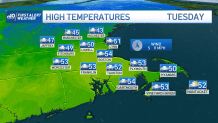 In that big window of spotty showers, clouds and southwest breezes, our temperatures are expected to skyrocket into the low 60s on Wednesday. Humidity may even briefly climb as the dew points rise into the low/mid 50s! Colder air will sneak in from the north Wednesday night as the last batch of rain moves through.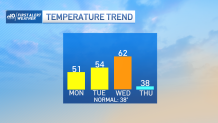 The storm is departing on Thursday just as the cold shuffles in. Our temperatures crumble back to the upper 30s – about normal for this time of year. Some flakes are possible over northern New England, but the rest of us should just see some spotty sprinkles.
There is one more storm system grabbing our attention on Friday as the pattern stays active. This one will be just offshore and could produce some snow showers over southern New England. Right now, our temperatures are marginal and the storm seems too far out of reach for any serious concern. That could change in the days ahead, so we'll stay vigilant.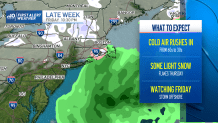 Enjoy your week!