Let the good weather roll! Our temperatures Thursday afternoon are summer-like, and the best part of it is we'll get to hang on to warm digits through early this weekend. The warmest day will be Friday, as we wrap up our work week with temperatures that climb into the lower 80s in Boston and mid to upper 80s in parts of Connecticut and the southwest.
While we enjoy mostly dry conditions, a couple shortwaves push through Thursday and Friday, moving in a few hit and miss showers in parts of Vermont, New Hampshire and eastern Massachusetts from the afternoon into the early evening Thursday, with another round of possibly stronger activity Friday.
Friday's rain may be heavier at times and may bring a storm or two with it that will move quickly into the southeast. A cold front begins to roll through Friday into Saturday which will allow for shower activity to become scattered especially on the southern half of New England.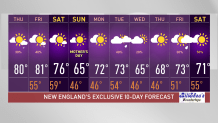 Saturday's temperatures may still reach the upper 70s in Boston with lower 80s in parts of Connecticut before cooler air arrives for Sunday. Highs on Mother's Day will remain in the mid to upper 60s for most. Our exclusive 10-day forecast keeps us with near seasonable temperatures next week.