A high pressure system builds over us today supporting weaker northwest winds, mostly sunny skies and highs in the upper 40s along the coast with lower 50s inland.
Thankfully, a quiet weekend overall. Our temperatures tomorrow will be affected by the coastal sea breeze keeping our highs in the upper 40s again along the east, but far inland. Temperatures will warm up to the lower and mid-50s.
With a quiet start to the week, we'll be gearing up for a rise in temperatures. Highs on Monday will make it to the upper 50s and 60s.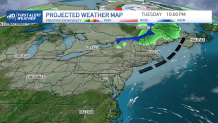 It's that time of year in which the wind direction is crucial, and our coastal communities face the recurring sea breeze that keeps temperatures cooler east than out west.
Our Dual-10 Day forecast greatly shows the difference of Boston & the coast vs our inland highs. Temperatures will make it to the 80s west on the second half of next week, while if the wind is too light, the sea breeze may trap temperatures in the 60s to 70s along the immediate coast.
Aside of that warm up, the chance of showers is very low throughout next week too. The only chance for a few spotty sprinkles/showers may be Tuesday into Wednesday where a frontal boundary pushes into northern New England.
Increase in cloud coverage will be the main result for Boston, but a few sprinkles may also make they way through. The following rain potential will be by the second half of next weekend.