It's a chilly and wet start to Tuesday. Some areas with elevation see some wet flakes to start off the day.
By the afternoon, the rain winds down, but the clouds stick around, and highs will be in the middle 40s.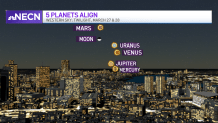 Some partial clearing is likely by early evening. With a partly cloudy sky, viewing of five planets coming together in alignment is possible Tuesday night. Best viewing will be just after sundown in the western sky. Mars, Uranus, Venus, Jupiter and Mercury will be visible.
On Wednesday, skies will be mostly sunny, with milder temperatures, and a bit of a breeze from the west. Highs will be in the lower 50s. Thursday is Red Sox opening day. Expect some snow showers or flurries, very early in the morning. The skies clear with a gusty wind for game time. Highs will be in the lower 40s, but feels-like temperatures will be in the lower 30s. Dress warmly for the game.
Friday is mostly cloudy, and rain arrives by midday with highs around 50. Saturday is rainy, but very mild. Highs will be in the lower 60s. A rumble or two of thunder is possible on Saturday afternoon. Sunday is mostly sunny, cooler and breezy, highs in the lower 50s, or upper 40s.