Clouds continue to grow Wednesday afternoon with highs ranging in the upper 30s to mid 40s, but we're bracing for the bag of mixed precipitation heading our way Wednesday evening through Thursday.
When Does the Winter Storm Arrive in New England?
Freezing rain, sleet and snow will threaten our roads for Wednesday evening's commute along Connecticut and central Massachusetts. Snow will likely affect the Berkshires — the further north we go, the more snow we'll get. Wider coverage will spread across Vermont and New Hampshire Wednesday night. Eastern Massachusetts will see a more heavy snow rate Wednesday night before we see a switchover to sleet overnight. The sleet will extend from the Berkshires around midnight through the Merrimack Valley, York County and down to northern Rhode Island.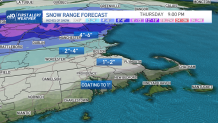 How Will the Ice Storm Impact My Commute?
For Thursday's morning commute, we must all take extra caution as sleet and freezing rain accrete from northern Connecticut to northern Rhode Island and inside I-495. This ice will still spread in the foothills of the green and white mountains. Higher elevations will remain with snow up north and continue through late morning and midday hours. Cloudy skies will remain through Thursday afternoon before another round of snow and mixed precipitation approaches northern New England and expand across the south through early Friday. Again, the further north we go, the less ice and the more snow we'll see.
How Much Snow Is Expected Tomorrow?
Regarding accumulation: south of the Pike will only see 1 to 2 inches. 4 to 6 inches may spread from southern Vermont to Rockingham County in New Hampshire. Higher elevations in Vermont and New Hampshire may see over 8 inches accumulating by the end of Thursday night. The further northeast in Maine we go, the lesser amounts we would see. Ice will likely fall up to 2/10 of an inch in the Berkshires and northern Worcester County. Periodic icing will take place much of Thursday. Light icing may affect I-495 much of Thursday, too.
Highs on Thursday will stay in the 30s, and Friday will once more see cold temperatures get even colder by the evening with the push of a cold front. This next frontal boundary will plunge us down to the 20s Saturday afternoon. Wind chills will range in the single digits Friday evening and dip into subzero numbers by sunrise Saturday. While highs will stay in the 20s Saturday afternoon, temperatures will feel from single digits to the lower teens. Along with another system pushing through, snow will now spread across all of New England by the late morning into the late afternoon hours.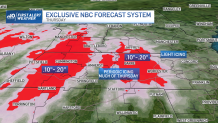 A new system may follow Sunday with another round of snow accumulating across the region. With Sunday's system, however, most of the snow will slide in much of New England but the coverage doesn't look to be filling in completely in Connecticut.