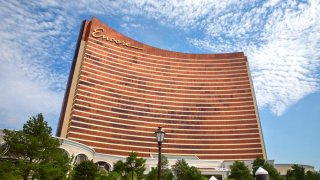 Bettors plunked down more than a half-million dollars on the first day of legal in-person sports wagering in Massachusetts and generated almost $10,000 in tax revenue for the state, the Gaming Commission reported Wednesday.
The first monthly reports on sports betting revenue cover just one day, Jan. 31, and the figures from Plainridge Park Casino, MGM Springfield and Encore Boston Harbor varied. While Encore had by far the largest handle, or amount wagered, the Everett casino posted a loss for the day and paid no state tax. Plainridge Park in Plainville reported the largest revenue haul of the day.
Encore took $370,881.75 worth of bets but posted a loss of $74,230.15 for the day and therefore was not subject to the 15% state tax, the Gaming Commission said. In cases like this when a sportsbook pays more to bettors as winnings and the federal government as excise taxes than it counts in gross sports wagering receipts, Massachusetts law allows them to carry over the negative amount in tax liability to future months' returns.
MGM Springfield took $57,235.80 worth of bets and reported daily revenue of $12,295.65, or $12,152.56 after paying excise tax. That worked out to $1,827.88 in tax revenue for the state, the commission said. Bettors put $82,830.49 on the line on the first day of wagering at Plainridge Park Casino and the Plainville slots parlor reported revenue of $53,758.54, or $53,554.26 after paying excise tax. That win generated $8,033.14 in state tax revenue, according to the commission.
Copyright Boston Business Journal