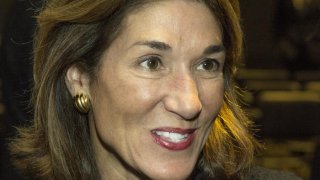 Former Lt. Gov. Karyn Polito will be the newest member of the advisory council of Firefly Health, a Watertown-based, virtual-first healthcare provider and health plan.
In an announcement this week, Polito said that Firefly shares her passion for improving healthcare access, quality and affordability. During her tenure as lieutenant governor under former Gov. Charlie Baker between 2015 and 2023, Polito took on healthcare initiatives in primary care, pharmaceuticals cost control, community health centers, behavioral health and health equity. 
"As I continue my service beyond my time as lieutenant governor, I look forward to strengthening my existing relationships with exceptional leaders who are invested in their communities and forging new partnerships with innovators like the Firefly team who are working to address key issues here in Massachusetts and in places across the country," Polito said in a release.
The advisory council is made up of mostly professionals that bring experience in healthcare benefits, business and consulting. But Polito's government experience, specifically her work in public health and network around Massachusetts, appealed to Firefly as the company looks to expand benefits and partnerships throughout the state.
Copyright Boston Business Journal