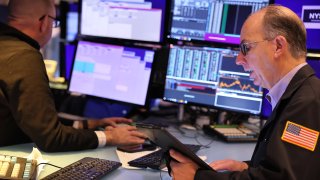 U.S. Treasury yields were mixed on Monday, as investors awaited key inflation data and fretted over the potential impact on future Federal Reserve monetary policy decisions.
The yield on the 10-year Treasury was down by 3.4 basis points at 3.709%. The 2-year Treasury yield, meanwhile, gained 1.1 basis points to trade at 4.524%.
Yields and prices move in opposite directions, and one basis point is equivalent to 0.01%.
Investors assessed the outlook for inflation and monetary policy, including the likelihood of further interest rate hikes by the Fed.
Key inflation data, including the consumer price index report for January, is expected on Tuesday. Many investors are hoping for figures that indicate inflation is easing.
The Federal Reserve has been working to cool the economy through policy measures including increasing interest rates. Concerns have spread over the pace of rate hikes and the prospect that keeping them higher for longer will drag the U.S. economy into a recession. Many investors are hoping for the Fed to pause rate increases this year.
Last week, several central bank officials hinted that rates could go higher, but that they would base any policy decisions on economic data.
Copyright CNBCs - CNBC