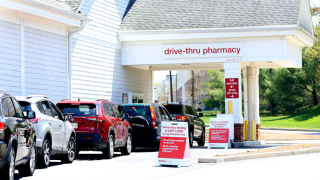 Five new coronavirus testing sites will be opened at CVS pharmacies around Massachusetts this week, the company announced Thursday.
The new sites, located in Bellingham, Ipswich, Pittsfield, Salisbury and Worcester, will open Friday and bring the total number of testing sites at CVS stores to 26.
The sites will utilize self-swab tests, and patients must register in advance.
People will be required to stay in their cars and will be directed to the pharmacy drive-thru, where they will be given a test kit and instructions. Staff members will be nearby to observe the swab process to ensure it is carried out correctly, the company said.
Tests will then be sent to an independent, third-party lab for processing. The results are expected to be ready in about three days.
"Opening access to testing to more locations using our drive-thru window represents an important milestone in our response to the pandemic," said Larry J. Merlo, President and CEO, CVS Health.
"We remain grateful for the daily efforts and sacrifices of our front-line colleagues who make the continued expansion of our testing possible."
Here's where the new sites are located:
CVS Pharmacy, 370 Pulaski Boulevard, Bellingham, MA 02019
CVS Pharmacy, 114 Central Street, Ipswich, MA 01938
CVS Pharmacy, 107 West Street, Pittsfield, MA 01201
CVS Pharmacy, 2 Lafayette Road, Salisbury, MA 01952
CVS Pharmacy, 481 Lincoln Street, Worcester, MA 01601
A full list of CVS Pharmacy drive-thru locations can be found here.
For downloadable coronavirus testing media assets visit the Media Resource Center.