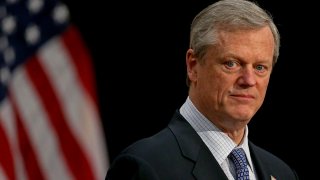 Johnson and Johnson's newly approved COVID vaccine will "dramatically" boost vaccination efforts in Massachusetts, Gov. Charlie Baker said Monday.
"This vaccine is obviously a critical part of how we get to the next normal," Baker said. "The introduction of that vaccine over time will certainly dramatically boost our vaccination efforts here."
The first shipment of the single-dose vaccine, which was approved by the U.S. Food and Drug Administration for emergency use over the weekend, will likely come sometime next week, according to Baker. The size of that shipment remains unclear, but Baker said it's "definitely in the thousands," with more expected as the company ramps up production.
The vaccine, which was developed in part by a group at Beth Israel Deaconess Medical Center in Boston, joins the Moderna and Pfizer two-dose vaccines in the public health arsenal. Baker echoed a message from the nation's top infectious disease expert, Dr. Anthony Fauci, who urged people to get any shot available to them.
"All the vaccines are effective. All of the vaccines work. Take whichever one you have an opportunity to take when you're eligible and it's your turn," Baker said.
Baker said last week the combination of Johnson & Johnson's vaccine getting approval and the plans Pfizer and Moderna have to increase their production "could be a really big moment."
On Monday, Baker said the new vaccine "should mean a big increase" in the amount of vaccine available.
On Feb. 24, Baker estimated it would take about a month, barring an increase in vaccine supply, to get through the roughly 1 million people who at that time were becoming newly eligible to receive vaccines, including the large group of residents in the age 65 and older group.
Also on Monday, Baker said about 68 percent of residents 75 and older had been vaccinated. In the long-term care sector, 90 percent of residents and about 70 percent of staff had received vaccines, he said.
Baker's remarks came after he toured a vaccination site in Boston's Mattapan neighborhood Monday, when Massachusetts moved into Phase 3, Step 2 of its reopening plan. Baker stood by his decision to relax some restrictions, which raised capacity limits to 50% for most businesses.
"We felt based on that data, and the success of the vaccine rollout so far that it was appropriate to make some adjustments," Baker said. "We'll continue to review the data every day and every week, and if we see stuff in the data that concerns us we'll make adjustments again. But I think it's important for everybody to understand that this is a constant balancing act."
Baker pointed to the 1.2 million people in Massachusetts who have received their first dose of the vaccine, and 550,000 of the state's most vulnerable residents who have received both doses. He noted that the state has seen a drop in hospitalizations, positive case counts and daily case rates over the course of the past two months.
New daily cases of COVID-19 have dipped to their lowest levels since October and Massachusetts confirmed it has fully vaccinated more than half a million residents. Another 600,000 have received an initial dose of the vaccine.
"Obviously great to see the data moving in the right direction," Baker said. "That makes it possible for us to make some adjustments. It doesn't mean, however, that people can or should let down their guard."
"And it's also critically important, as we roll this out, that we make sure we get to every community in the Commonwealth," Baker said.
Officials highlighted the important role community health centers play in addressing vaccine hesitancy and access among people of color.
Since launching as a vaccination clinic in mid-February, the Morning Star Baptist Church in Mattapan has administered over 1,000 vaccines, according to Baker. As supply increases, the site will eventually have the ability to do about 500 shots a day.
"We recognize that COVID hasn't effected every community the same way, and communities of color have been much harder hit," Baker said. "But this clinic - they're working to break down barriers to the vaccine and to improve health outcomes for people here and elsewhere."
"We recognize there's a hesitancy around the vaccine, and much of this hesitancy is born of generations of systemic racism and disproportionate access to quality medical care in Black and Brown communities," Baker said. "These trusted neighborhood-based institutions are a key part of how we overcome that challenge."
Baker reflected on the last time he visited the church more than a year ago as he gave an update on his response to the COVID-19 pandemic.
"This is a really special place in this community. It absolutely feeds the soul, but it also feeds the community, physically in a variety of ways," Baker said. "This was actually one of the last places I visited in a traditional way, in a very untraditional circumstance, before this all really got going."
Meanwhile, the Baker administration continues to face criticism over its rollout of COVID vaccines, with many saying it has been difficult and confusing to secure an appointment.
Baker on Thursday apologized for problems with the Massachusetts' COVID-19 vaccination portal but reiterated his argument that a limited supply of doses from federal authorities was to blame for a troubled vaccine rollout.
Baker was asked at an appearance before the COVID-19 and Emergency Management and Preparedness Committee whether he would apologize to people who encountered issues with the state's vaccine portal, which crashed last week as a million people became eligible for vaccination.
"Of course. Absolutely. Definitely. Yes," he said. "It's going to be a constant challenge, going forward that we don't have enough supply to serve the population that wants to get vaccinated. I hope at some point that's not true anymore."
Baker added his administration would continue "to do things to improve the performance of the website, and I'm and as frustrated and disappointed about it as anybody."
State House News Service contributed to this report.
More on COVID-19 in Massachusetts...
Copyright State House News Service