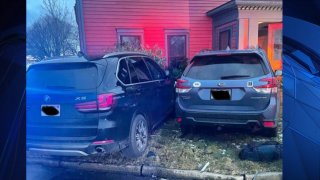 Two SUVs were involved in a crash Saturday night and both ended up striking a home in Newburyport, Massachusetts, fire officials said.
The Newburyport Fire Department confirmed it responded to Water Street at Ocean for the 2-car crash, and said fortunately there were no injuries.
Pictures from the scene showed both cars resting in the front lawn, with at least one vehicle sustaining front-end damage and the airbags visibly deployed.
Firefighters and a building inspector are assessing damage to the home.
There was no immediate word what caused the crash.