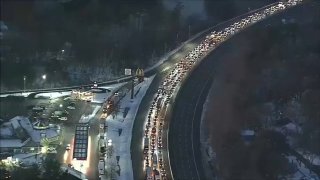 Three separate crashes on the same stretch of the Massachusetts Turnpike eastbound made for a brutal commute for many drivers on Tuesday morning.
The first crash was reported around 5 a.m. on the Mass. Pike east in Weston, about 15 miles outside of Boston.
That crash was cleared about an hour later, but a short time afterward, another crash was reported on the Mass. Pike eastbound in Weston. The backup from that crash went all the way to the Natick rest stop, meaning it took over an hour just to drive the 8 miles to Newton.
The Massachusetts Department of Transportation said the second crash was a multi-vehicle crash with injuries. No further information was immediately released. The crash scene was cleared around 7 a.m.
But no sooner had that crash cleared than a third crash was reported, again in the eastbound lanes of the Mass. Pike in Weston. There is no word yet on injuries or expected delays in that crash.