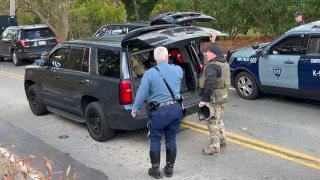 Three men have been indicted in last year's armed bank robbery on Martha's Vineyard.
The Rockland Trust bank in Vineyard Haven, Massachusetts, was robbed at gunpoint on the morning of Nov. 12, sparking a massive manhunt. Three masked robbers tied up employees and got away with more than $39,000. No one was injured in the ordeal.
The office of U.S. Attorney Rachael Rollins said Thursday that a federal grand jury in Boston indicted 39-year-old Miquel Antonio Jones of Edgartown and 32-year-old Omar Odion Johnson of Canterbury, New Hampshire, on charges of armed bank robbery and aiding and abetting.
The grand jury indicted 21-year-old Romane Andre Clayton of Jamaica on a charge of accessory after the fact to armed bank robbery, Rollins' office said.
At the time of Clayton's arrest in December, prosecutors said he had been seen in surveillance footage parking a silver sedan near the Steamship Authority, purchasing tickets and boarding a ferry a short time after the robbery. Johnson was then allegedly caught on camera getting into the same sedan, buying a vehicle ferry ticket and boarding a vessel with it.
Prosecutors also noted that investigators searched the Tisbury farm used by the landscaping company where Jones worked. There they found gloves, paper money bands, zip ties and multiple rubber bands which were all consistent with the bank robbery. They also found evidence of a recent fire and burnt pieces of material including a walkie-talkie, an antenna, batteries and pieces of metal consistent with a mask. Nearby, investigators recovered two semi-automatic handguns, still loaded with 9mm ammunition, buried in the ground.
Investigators also found three $100 bills and "clothing consistent with the robbers" in Jones' car. A black handgun was found in Johnson's home, and paperwork showing a money transfer to Jamaica and cash deposits to a Connecticut bank was found in his car, Rollins' office said.