On Wednesday, March 14, we'll be debuting the official 2017 Tech Madness Bracket at our Reveal Party at Game On Fenway. Discounted early bird tickets are available until February 17 for you and your whole team.
Tech Madness is our friendly competition to see who the community thinks will be the most valuable tech company in five years. We seed 64 local businesses/startups and put them head-to-head with you, our readers, voting to determine who will move on to the next matchup.
And since we're one month out from the reveal party, we wanted to answer one big question you're probably asking: "How does BostInno assemble the bracket?" Today, we're going to tell you exactly that.
First, we take a look at the whole field. For the past month-and-a-half, we've asked you to nominate the companies you think need to be on the bracket. From those nominations, we created our 2017 Tech Madness Finalist list of 150 below. The 64 Tech Madness bracket companies will pull from this list along with a few possible internal picks based on our reporting leading up to the event.
While putting together the bracket, we're looking for a group that embodies the complete range of Boston Tech, in both industry and stage. So, no, the bracket will not just be a list of the 64 local companies that have raised the most money, hired the most people or generated the most revenue. The bracket will also have a handful of companies that we think could get there in five, 10, 15 years.
Over the next month, we'll be seeding the 64. Seeding, like last year, is based almost entirely on funding and market cap, although variables such as headcount and growth will be factored in a bit, too.
Seeding is not an editorial statement on how we feel about a company. The bracket only works if companies are seeded 1 through 16 and venture capital is the most accessible, universal metric to use for categorization. It's also important to note that, outside of the physical placement on the bracket, seeding doesn't matter.
Local
In-depth news coverage of the Greater Boston Area.
So, without giving away the whole recipe, that's how the Tech Madness Bracket will be put together. Here it is, 2017's finalist list, full with names you'll probably know and names you won't... but you will.
2017 Tech Madness Finalists:
128 Technology
Acacia Communications
Acquia
Actifio
Affectiva
Akamai Technologies
Allego
Analog Devices
Applause
AppNeta
Apptopia
athenahealth
Baroo
Bedrock Data
BitSight
Blink
BlueSnap
Brightcove
Building Engines
Buildium
Bullhorn
Cambridge Sound Management
CannaKorp
Carbon Black
Carbonite
CarGurus
Catalant
Cengage
Circle
Circulation
Cloudhealth Tech
Clover
clypd
Cogito
Confirm.io
Crayon
Crimson Hexagon
Cybereason
Cybric
Cyphy Works
DataDog
DataXu
Desktop Metal
Disruptor Beam
Docent Health
Drafted
DraftKings
Drift
Drizly
EF Education First
Everbridge
Evergage
Everquote
ezCater
Flywire
Formlabs
Fortified Bikes
Freight Farms
Fuze
Gamer Sensei
Help Scout
Hopper
HubSpot
indico
Indigo
Infinidat
InsightSquared
InVision
Iora Health
iRobot
iZotope
Jana
Jobble
Jobcase
Kaminario
Kayak
Leanbox
Localytics
LogMeIn
Lola Travel
Lose It!
LovePop
Mautic
Mavrck
Maxwell Health
Miniluxe
Motus
Nanigans
Nasuni
Neurala
Neurable
NewStore
Nift
Notarize
Nutonian
nuTonomy
OnShape
Ovia Health
ownerIQ
Panorama Education
PatientPing
Piaggio Fast Forward
PillPack
Pixability, Inc.
Placester
Promoboxx
PTC
Puretech
Quantopian
Quilt
Qstream
Rapid7
Ready4
Rendever
Rethink Robotics
Rue La La
Salsify
SessionM
Shoobx
SHYFT Analytics
SimpliSafe
Simplivity
Skedaddle
SmartBear
SmashFly Technologies
SnapApp
Starry
Tablelist
Talla
Tamr
Teikametrics
TetraScience
The Grommet
Threat Stack
Toast
TripAdvisor
True Fit
TrueMotion
Turbonomic
Vecna
Vesper
Videonitch
Viral Gains
Wanderu
Wayfair
Wellist
Wistia
Yesware
Zagster
ZeroTurnaround
Thank you to our Tech Madness Sponsors. Interested in sponsorship opportunities? Email us at sales@bostinno.com for more information.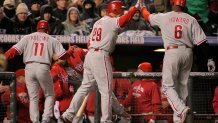 More BostInno Stories:
Copyright Boston - BostInno