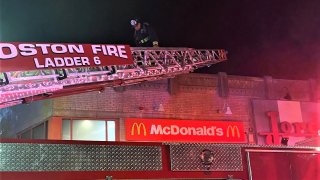 Boston firefighters put out two fires that broke out simultaneously during the early hours of Friday morning.
The first blaze was reported at a McDonald's on Washington Street in Boston's Dorchester neighborhood around 3:15 a.m., followed by a second fire in a South Boston multi-family home shortly after. No one was injured in either fire.
The McDonald's fire was contained to the one business and the cause remains under investigation.
The fire in the multi-family home broke out in the basement of the building at 893 East 4th Street, South Boston. Nine residents were displaced. The cause of the fire remains under investigation.
No further information was immediately available.