K9 Bronson, the first dual-purpose patrol and explosive detection K9 in the Boston Police Department's K9 Unit, died on Sunday.
The police said the success and example set by Bronson led to the addition of 12 more dual-purpose dogs to the unit over the past 6 years.
Bronson passed away while at home with the head trainer of the K9 Unit, Officer Troy Caisey, who had raised him since he was a puppy.
"Bronson was what I love to see in a police dog - high energy level, always ready to work, confident, good temperament and a bit of a punk. He rode along side of me for countless shifts patrolling the city of Boston and I always knew that he was ready for anything we encountered," said officer Caisey.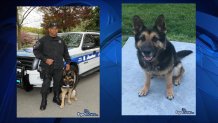 Officer Caisey said that on their final night together, he sat in the yard with Bronson's head in his lap just talking to him.
"I can't possibly explain all that he meant to me or how much he will be missed. So as you go about your busy day and your dog is staring at you for a little attention or play time - take a few minutes for them. All they want to do is please you and spend a little time with you. They won't be here for long," added Officer Caisey.
Local
In-depth news coverage of the Greater Boston Area.
Bronson was 9-years-old.