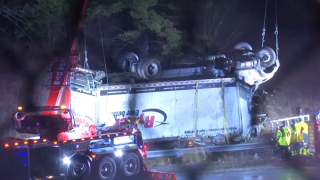 A box truck rolled over on Interstate 93 North in Andover, Massachusetts early Thursday morning.
The truck was seen completely upside down, as crews tried to lift the truck with a crane and tow truck. The crash happened near Exit 39.
The incident caused the right lanes to be blocked, and led to damage to the guardrail.
It hasn't been made clear what led to the crash. State police said that the truck was driven by a 59-year-old man from Medford, who wasn't hurt.