An elderly woman was seriously injured after driving her car into a retention pond in Ayer, Massachusetts, on Thursday morning, officials said.
The Ayer Fire Department confirmed that a car went into the water off the Ayer Rotary around 6:50 a.m., falling into the frozen water 20 feet below.
The driver, an elderly female, was taken to an area hospital with what police described as serious but not life-threatening injuries. She is believed to be from the Ayer area.
"That water was iced over. It's cold," Ayer Fire Capt. Timothy Shea said. "We do train yearly for ice water rescue, mainly for people or dogs that go through the water. The suits we have are able to keep the members dry and warm."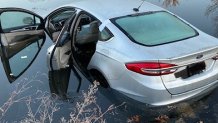 Preliminary investigation shows the car drove straight into the retaining pond in the center of the rotary. The pond was installed this year.
What caused the woman to veer off the road and into the pond is not yet known. It's also not clear if the slippery roads played a role in the crash.
Shea said the rotary is known for minor crashes, but this is the first time someone drove through the middle of it.
"There's no barrier protection, nothing that would prevent anybody from doing that," he said.
No further information was immediately available.