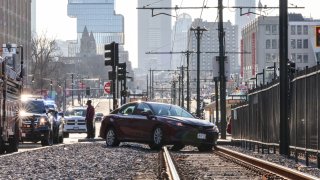 A car on the tracks caused delays on the MBTA's Green Line in Boston during the Monday morning commute.
Shortly after 7:30 a.m., the MBTA said that delays of up to 15 minutes westbound should be anticipated due to a car in the track area blocking service at Amory Street.
A photo from the scene showed a maroon Toyota Camry with damage to the driver's side door resting on the tracks in the area of Buick Street and Commonwealth Avenue in Allston. The car reportedly collided wwith a small school bus, with the car winding up on the tracks.
Shortly after 8 a.m., the T said service had been suspended westbound between Babcock Street and Packard's Corner. But by 8:24 a.m., the MBTA said the car had been cleared from the tracks and service had resumed.
No further details were immediately available.