A car crashed into a Macy's storefront Monday afternoon in Saugus, Massachusetts, damaging the building.
Saugus police say a 72-year-old man was backing out of his parking spot when he accidentally accelerated into the doorway of the store located at 1185 Broadway.
No one was injured in the incident at Macy's Square One Mall, police said.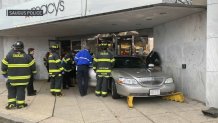 The driver will not be charged or cited, however Saugus police say they filed a request for an immediate threat license suspension/revocation.
No further information was available.