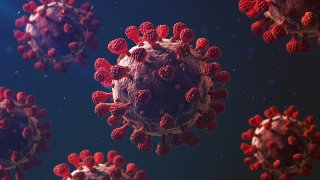 Health authorities in the state reported on Saturday that a group of cities in towns located south of Boston have higher positivity rates for coronavirus than the state average.
Massachusetts, like the country, is dealing with a resurgence of cases of coronavirus. The state's 14-day positivity rate was about 2.7%, but numerous towns in Bristol and Plymouth counties and on Cape Cod and the islands are higher than that, the Massachusetts Department of Public Health reported.
The positivity rate in the city of Fall River is more than twice the state average at 6%, the agency reported.
Numerous smaller towns, including Fairhaven, Halifax and Truro, are also more than twice the state average, the agency said.
The trend is not universal. Towns in southern Massachusetts including Marshfield, Plympton and Falmouth remain below the state average.
The seven-day rolling average of daily new cases in Massachusetts has risen over the past two weeks from 657.14 new cases per day on July 29 to 1,155.86 new cases per day on Aug. 12. That is the highest daily case count of the six New England states.
Copyright AP - Associated Press