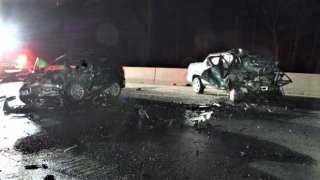 Two drivers died in a head-on car crash shortly after midnight Thursday in Merrimack, New Hampshire. One of the cars was engulfed in flames.
The fatal crash happened around 12:12 a.m. on the Everett Turnpike, according to the New Hampshire State Police. Both drivers were pronounced dead on scene.
The cars involved, a 2009 Honda Ridgeline and a 2016 Audi Q5, were reportedly blocking all three travel lanes. The roadway was shut down for about two hours. Traffic was diverted off of exit 13 in Bedford, just north of the crash scene.  
The Bedford Fire Department, Merrimack Police and Fire Departments, EMS, and New Hampshire Department of Transportation helped state police on scene.
There were no witnesses to the events leading up to the crash. An investigation is underway to determine the cause.
Anyone with information is encouraged to contact Tr. B. Tallon at the New Hampshire State Police – Troop B Barracks at 603-223-3849 or Brendan.J.Tallon@dos.nh.gov.