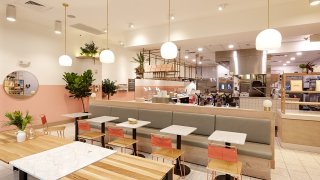 [This story first appeared on Boston Restaurant Talk.]
A New York City-based group of "farm-to-counter" dining spots appears to have closed one of its outlets in Boston.
According to a source, Dig at the Prudential Center in the Back Bay is no longer in operation and the doors are papered over, with a check on the website for the business seeming to confirm that it has closed permanently, as the page for that location says "We're sorry, but this location is currently closed" and its page on the Prudential Center website has been removed. Other locations locally, including in Downtown Crossing, Copley Square, the Seaport District, and Cambridge's Harvard Square and Kendall Square, remain open.
The Prudential location of Dig first opened in 2017, back when the restaurants were called "Dig Inn."
The website for all locations of Dig is at https://www.diginn.com/
Copyright Boston - Boston's Hidden Restaurants