A woman in Massachusetts is the state's fourth confirmed case of eastern equine encephalitis, or EEE, this summer, health officials reported Sunday evening.
The southern Bristol County resident is over the age of 50, the Massachusetts Department of Public Health said in a statement.
The DPH did not name the woman or give an update on her condition, but Robert Sylvia, Jr., tells NBC10 Boston that his wife Laurie Sylvia died Sunday from the rare disease.
Sylvia Jr. says his wife of 40 years started feeling sick on Monday and then died in the hospital Saturday. He is convinced his wife died from the virus spread by mosquitoes but an autopsy is being performed.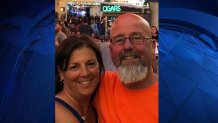 Sylvia Jr., who is president of Teamsters Local 59, a union based in New Bedford, says his wife, a 59-year-old realtor, could've been bitten anywhere, and he is urging people to take precautions against mosquito bites.
The Fairhaven Health Department confirms it received a report of someone contracting EEE and is investigating. Fairhaven health officials tell NBC10 Boston they are stressing people take precautions.
Fairhaven Firefighters Association Local 1555 also announced on Facebook that a Fairhaven resident had contracted EEE, urging others to heed EEE warnings.
"Fairhaven residents: Please take the EEE warnings seriously. Sadly, one of our residents has a confirmed case of EEE...," the post read.
Jen Sylvia confirmed her mom's death Saturday, writing in a Facebook post that is no longer public, "Today I had to say goodbye to my best friend. My mum was my favorite person in the world. She brought light and joy to everyone she came across...Mum, I hope you find the beach in heaven. I'll meet you there one day."
Teamsters Local 59 wrote in a Facebook post Friday, "It pains us to inform you that Laurie Sylvia, the wife of Teamsters Local 59 President Robert Sylvia, Jr has been stricken with the EEE Virus. For the last several days we were hopeful that with the best possible care from the Doctors and Staff at Tufts Medical Center in Boston, she would be able to recover. We have just learned that this will not be the case."
Late Sunday evening, the union shared a photo of Sylvia, writing, "Dear Members and Friends, It is with great sadness and heavy hearts that we inform you Laurie Sylvia has passed away. All of us here at Teamsters Local 59 extend our sincere and deepest sympathies to Bob and his family."
EEE is a rare, potentially deadly disease that can affect people of all ages. Symptoms from the virus, which is spread by mosquitoes, include fever, stiff neck, headache and lack of energy.
Officials have been spraying communities across the state to control their populations.
Aerial spraying for mosquitoes in Bristol and Plymouth Counties has been completed, the DPH said, while aerial spraying in areas of Middlesex and Worcester Counties was scheduled to begin on Sunday and continue over several evenings.
In total across Massachusetts, there are 23 communities now at critical risk, 22 at high risk, and 52 at moderate risk for the EEE virus.
Local
In-depth news coverage of the Greater Boston Area.
Spraying for mosquitoes does not eliminate the risk, and officials urge people in communities at critical, high and moderate risk for EEE to continue to take personal precautions against mosquito bites.
The EEE virus has been found in 330 mosquito samples this year, many of them from species of mosquitoes capable of spreading the virus to people.
Massachusetts hadn't seen a human case of the virus since 2013 before health officials announced three confirmed cases earlier this month. The Massachusetts Department of Public Health (DPH) previously confirmed EEE in a Rochester man older than 60, a man in Grafton between 19 and 30, and a man over 60 years old in northern Franklin County.