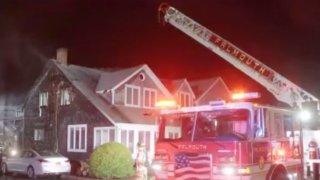 A man in Falmouth, Massachusetts, woke up in the middle of the night to popping sounds and found his garage was on fire. He immediately got his wife and their two children out of the house near Massasoit Street.
Falmouth Fire Chief Timothy Smith said the fire started in the garage, then spread to one side of the house. Two cars in the driveway were badly damaged but no one was injured.
"Could have been, you know, any of the garage contents or there were three cars in the driveway, at least two were heavily damaged, so we could have had issues with some of the tires popping," Smith said of the popping sounds.
No further information was immediately available.