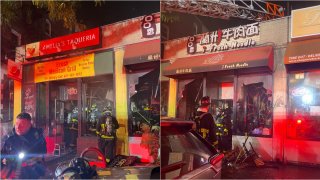 Multiple Boston businesses appeared to suffer severe damage in a fire Tuesday night in Allston.
The Boston Fire Department responded to the fire that broke out at 180 Brighton Avenue, which burned through several stores on the block.
In a tweet just before 10 p.m., fire officials said they were still working to gain control and knock the fire down.
Photos from the fire department showed damage to Amelia's Taqueria, iFresh Noodle and Thai Place, as well a Bank of America branch.
No further information was immediately available.