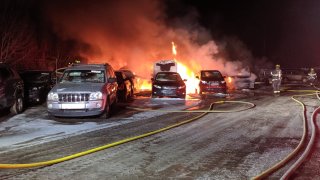 A two-alarm fire at Billerica salvage yard called for support from area fire departments.
Firefighters responded to 55 High Street around 8:10 p.m.
The department received aid from the Burlington Fire Department and Bedford Fire Department. No one was injured.
As of 8:18 p.m., a heavy bulk of the fire had been suppressed, but firefighters planned to remain on the scene for another hour, hosing down cars.
A previous version of this story stated that the address of the salvage yard was 55 Billerica Avenue. That has been corrected.