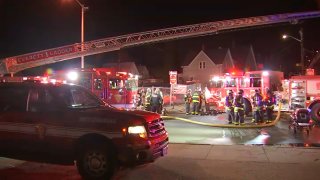 Five people were displaced from their home by a late night fire in Everett, Massachusetts, on Monday night.
The fire was reported around 10 p.m. in a 2-1/2-story wood-framed building on Ferry Street. It started between the basement and the kitchen floor and eventually spread to the second floor before it was extinguished, according to Deputy Fire Chief Joe Hickey.
No one was in the house when the fire started, but the five people who lived in the building were unable to return. The American Red Cross was assisting them in finding temporary lodging.
No injuries were reported, Hickey said.