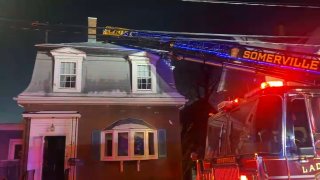 Firefighters worked to quickly extinguish a fire in a Somerville, Massachusetts, residence on Tuesday morning.
The fire was reported around 5:30 a.m. on Wigglesworth Street, the Somersworth firefighters union said. Cambridge fire sent mutual aid to Somersworth to help fight the fire.
When they arrived, firefighters said they saw smoke showing from the roof.
Video from the scene showed a two-story home with some exterior damage.
No injuries were reported.