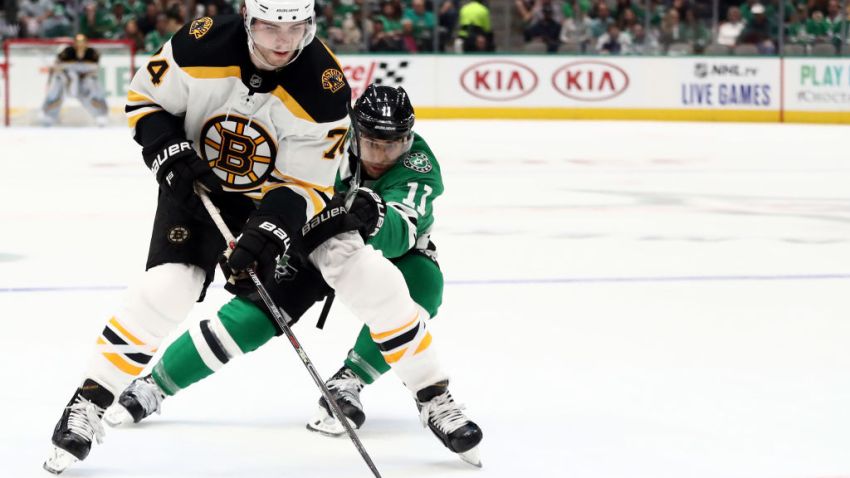 Here are five bold predictions for this season's edition of the Black and Gold with the opening of the season upon us.
1) The Bruins will not make it out of the first round
This may or may not be a bold prediction depending on who you talk to, and I'm not necessarily saying that the hockey gods will finally reverse their fate and have the Bruins fall to the Maple Leafs in the first round. It's just math, man. In the past 10 seasons, half of all Stanley Cup Finalists have either been ousted in the first round of not even made the playoffs the following season. I firmly believe that the Bruins will be a playoff team, and they might even get the better of both Tampa Bay and Toronto during the regular season. But I think the sheer workload of last season, the creeping age factor on this roster and the stiff competition in the Atlantic Division playoff bracket is going to get the best of Boston this season. This is what makes them failing to get the job done last June extraordinarily bitter when you think back to Game 7.
Local
In-depth news coverage of the Greater Boston Area.
2) Zdeno Chara will go out on his shield this season
This is a prediction I really don't want to make because it's not the way it should end for the 42-year-old Hall of Famer, but there's only so long a warrior can go to battle before it catches up to him. We've seen Chara's body get a little more banged up the past few seasons, so he's getting more susceptible to injury with age. That's totally normal. He also is coming off the lowest ice time per game at 21:05 in his 62 games last season. The Bruins are rightfully doing the best they can to manage his workload and keep him both healthy and fresh for the big moments. But Chara is 42, has played in almost 1,500 games and still plays one of the toughest positions on the ice as a shutdown defenseman. I think it's going to be difficult for him to avoid the kind of serious injury he's been able to sidestep in the past, and he's at an age where anything requiring surgery could mean the end of the line for him. I take no joy whatsoever in writing, but it's a bad feeling I've had all training camp when it comes to the longtime captain.
3) David Pastrnak will score 40 goals for the first time in his career
The 23-year-old would have done it last season had he avoided the thumb injury after his fateful fall at a team event, and Pastrnak has looked healthy in training camp this year. There's every reason to believe he'll crack the 40-goal mark for the first time in his career, and could even flirt with 50 goals if he retains his right-wing spot on the Perfection Line for the majority of this season. The sky has always been the limit for Pastrnak, and it should be a big year for him coming off a playoff performance that could be described as, at best, erratic. Pastrnak should be motivated to be at his best all season to answer for some of his shortcomings in the postseason, and to show that he learned something from some very up-and-down playoff games that ended on a low note for No. 88.
4) Charlie McAvoy will win the Norris Trophy
I made the argument all summer that McAvoy, 21, would be in line for a shorter-term bridge deal, and I turned out to be right on the money on that one based on all factors. Welp, here's one for the other end of the spectrum. I'm willing to buy into McAvoy's almost 50 games missed to injuries the past two years as dumb bad luck more than a reflection of his toughness. So this should be the season when McAvoy puts his two-way game together, takes a step forward offensively to be a 10-goal, 50-point kind of guy that also plays a workhorse, Drew Doughty-style defenseman. The opportunity is there for McAvoy to be Boston's No. 1 guy this season in terms of ice time, puck-moving role and shutdown opportunities, and if he seizes it then the sky is the limit for him. He'll have to get a little more aggressive in some spots offensively and toughen up a little in the D-zone to make it all happen, but the third season is when most defensemen begin to really show how good they can be in the league. I expect McAvoy to show that and then some in an important year for him in Boston.
5) The Bruins will sign Charlie Coyle to a contract extension
I'm not quite as convinced about Torey Krug because I think the Bruins need to see how McAvoy, Matt Grzelcyk and Urho Vaakanainen develop this season before they can make a proper decision on Krug's future. So, that may wait until after this season. But the Bruins don't have a player like Coyle in their system ready to contribute in the short term and the 27-year-old looks primed for a monster season in Boston coming off a strong camp. Coyle also represents a younger option at the center position with Patrice Bergeron, 35, and David Krejci, 34, getting a little long in the tooth in the middle. It remains to be seen how much Coyle will eventually get inked to with his hometown team, but this is a deal that's worked out really well for both sides. I expect this to be taken care of well ahead of July 1 when the Bruins have Torey Krug and RFA Jake DeBrusk to worry about.
Copyright N