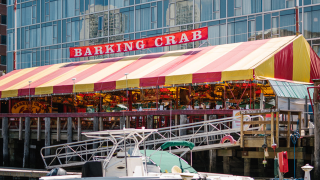 [This story first appeared on Boston Restaurant Talk.]
Below are some of the biggest restaurant and food-related news stories that have been posted between May 15 and May 21, 2023.
---
The Barking Crab in Boston Is Looking to Add a Floating Barge to the Restaurant
One of Boston's best-known restaurants could be adding more outdoor dining to its space (and in a rather unique way).
Full Story

Cloud & Spirits in Cambridge Ends Dinner and Bar Service; Will Become an Event Space
A Cambridge dining and drinking spot that opened a couple of years ago is turning into a place for events only.
Full Story

Blue Caboose Ice Cream and Coffee to Open in East Boston
An historic railroad car just up the street from the East Boston waterfront is being converted into an ice cream stand.
Full Story

Portugalia Restaurant in Cambridge Has Closed
A longtime Cambridge restaurant that served Portuguese cuisine has shut down.
Full Story

Local
In-depth news coverage of the Greater Boston Area.
Dimino's Subs in Revere Is Closing
A decades-old sub shop just north of Boston is shutting down.
Full Story
---
NOTE: Leslie Hurwitz, who is the father of Marc (the founder of this site) is currently dealing with health issues and needs your help. Please donate if you can at https://gofund.me/76d8ba28, thanks!
Copyright Boston - Boston's Hidden Restaurants