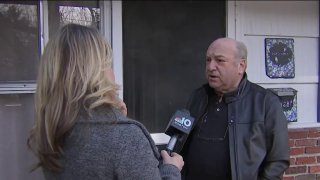 The Chair of the Framingham, Massachusetts, Democratic Committee resigned on Thursday, following sharp criticism in response to comments he made last month that referenced birth defects that are not detected and the cost of supporting special needs children.
Committee Chair Mike Hugo said in a news release that his resignation was "necessary to eliminate any distraction from the important work of the local Democratic Committee, as well as the State Party."
Hugo spoke during a meeting last month where the city council unanimously passed an ordinance to protect reproductive rights. He said he was trying to make a point that crisis pregnancy centers that mislead patients have no place in Framingham. He said some of those centers employ unqualified ultrasound technicians. 
"Our fear is that if an unqualified sonographer misdiagnoses a heart defect, an organ defect, spina bifida, that becomes a very local issue because our school budget will have to absorb the cost of a child in special education, supplying lots of services to children, who were born with the defect," Hugo said during the meeting.
His comments led to a firestorm of criticism from people in the community who said his comments sent a message that special needs children should be aborted because they are a burden to the town.
At the Feb. 26 Framingham Democratic Committee meeting, a motion to consider removal of Hugo was voted down by a margin of 11 to 16, with one abstention, the committee said in a release. Hugo made the decision to step down following discussion with Senate President Karen Spilka, according to the committee.
Hugo's full statement reads as follows:
"Recognizing my unfortunate misstatement at a recent CityCouncil meeting, and upon discussing the issue with my wife, family, Senate President KarenSpilka, and various members of the Framingham Democratic Committee, I have decided thatmy resignation is necessary to eliminate any distraction from the important work of the localDemocratic Committee, as well as the State Party. I thank the Committee members for theirrecent show of support in defeating a motion to even discuss my removal, thus this is of myown volition. However, I feel it is what is best for the Committee, my loved ones, my emotionaland physical health, and our cause and those I serve in my work. While I am stepping down asChair after over a decade of service as an officer, I plan to continue to do the work of the party.Even though I issued separate apologies to the City Council, The Framingham DemocraticCommittee, and the entire city within hours of the statement, I wish to reiterate that I am sorryfor distracting from a major victory for freedom of choice, and for harm to the other-abledcommunity at large."
Rosamond Hooper-Hamersley and Cesar Stewart-Morales will fill the vacancy as co-chairs of the FDC, effective immediately, the release said.