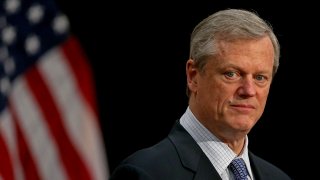 The path for laid-off workers to return to jobs and for employers to fill open positions will be "a little bumpy" as Massachusetts transitions out of the public health emergency, Gov. Charlie Baker said Friday.
Employers added 5,100 positions in April, but the pace of gains slowed and total employment remains more than 260,000 jobs below where it was pre-pandemic, according to data released Friday. Baker said that it might take some time for residents to adjust after more than a year of distancing requirements, capacity limits and, for many, concerns about health and safety from working in-person.
"The whole process associated with people finding their way back to work and employers finding employees is going to be one that, to use an old phrase, is going to be a little bumpy," Baker said. "We've gone through a year where many people have been concerned about being at work. Not everybody has the luxury to work from home. As the virus has dramatically receded, as most people who are of working age have gotten vaccinated, it makes it a lot easier for folks to take the step to go out and find a job and go back to work."
Baker said his administration would do "everything we can" to support those who want to go back to work, floating the possibility of offering more online networking and job fair events.
"As the case counts continue to go down, as vaccinations continue to go up, I think more and more people will get comfortable with 'going back to work,'" he said.
Baker spoke after touring New Heights Charter School in Brockton, and said schools should carefully consider requests from parents who believe their children should be held back a grade because they fell behind due to the coronavirus pandemic.
"If the parent believes the child is not ready to go on to the next year, then that has to be taken extremely seriously," Baker said.
Some parents want their children to repeat their current grade next year to offset what they see as a lost year, according to The Boston Globe.
Baker said he hoped families take advantage of summer school opportunities to supplement their educations, adding that the state and federal governments had increased spending in such programs.
"I feel we have to be flexible here and respect and understand that for many kids, this has been a lost year," Baker said. "I'm sure parents are worried about if their kid gets promoted and didn't get the experience and knowledge out of this year to get to the next grade, they're going to start next year in a terrible position."
Baker said he had discussed the scenario with the secretary of Education, but did not say whether a statewide plan for such families would be put in place.
The state is preparing to fully reopen on May 29, a move that comes about two months early and in the wake of federal guidance saying fully vaccinated Americans no longer need to wear masks indoors or outdoors in most situations. All industries in Massachusetts were previously slated to reopen on Aug. 1.
With the latest update to Massachusetts' reopening plan, all businesses will be able to reopen without restrictions and the face covering order will be replaced by the CDC's new guidance over Memorial Day weekend.
Face coverings, first advised by the state in April of last year, will still be mandatory for anyone taking public and private transportation including rideshares, taxis, ferries, the MBTA and the Commuter Rail as well as in transit stations. Masks will also be mandatory inside schools, child care programs, health care facilities, nursing homes and other settings that host vulnerable populations.
Baker has also announced Massachusetts state of emergency will end June 15, citing the state's nation-leading vaccination process in his decision to hasten the reopening timeline.
Also effective May 29, all industries will be permitted to open at 100% capacity and the gathering limit will be rescinded. All industries will be encouraged to follow CDC guidance for cleaning and hygiene protocols.
Businesses may choose to set their own requirements for vaccinations or masking.
On May 18, 2020, the Administration published the reopening phases, which called for ending restrictions when vaccines became widely available. Today, there are over 975 locations for Massachusetts residents to access vaccines without delay.
NBC/State House News Service