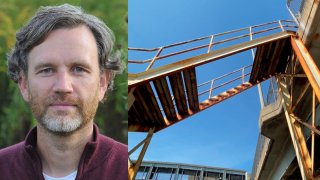 Calling for action to "stop the pain and suffering," the parents of a Boston University professor who died when he fell through a broken MBTA station staircase made an emotional call Monday for strengthening safety oversight of the under-fire transit agency.
Debra Bingham and Kent Hamilton of Milton told lawmakers about the pain they have endured since Sept. 11, 2021, when their son, David Jones, fell to his death from a dilapidated set of stairs that had been closed to the public at the JFK/UMass station.
Jones's death is one of the most high-profile incidents in the past two years of crisis at the MBTA, which also involved a rider's death due to a faulty Red Line door, a federal investigation that produced searing findings, and injuries stemming from derailments, crashes and deteriorating stations.
"David's mother and I are asking our state legislators to stop the deaths, stop the injuries, stop the pain and suffering caused by the lack of effective leadership and oversight," Hamilton, Jones's stepfather, said at a Transportation Committee hearing about proposed MBTA safety reforms. "We strongly hope David will not have died in vain and that his loss will help create the conditions to ensure a safe transportation system for Massachusetts."
A pair of bills before the panel would reshape the hierarchy of outside safety review at the MBTA by stripping the title of designated state safety oversight organization from the Department of Public Utilities and giving it to another office.
One measure from Transportation Committee Co-chair Rep. William Straus (H 3452) would task a working group with determining a better home for those responsibilities, such as the office of the inspector general. The other (S 2199), filed by Sen. Mike Barrett, would stand up a new Commission on Transportation Oversight and Regulation and task it with taking over the DPU's transportation-related duties.
Local
In-depth news coverage of the Greater Boston Area.
"We serve two purposes here in moving the transportation safety issue," Barrett said. "We find a home for transportation safety, which is critical. We also let the [DPU] focus, as we've asked it to, on all manner of new climate change priorities that we've assigned to it."
Inspector General Jeffrey Shapiro told lawmakers he agrees "the status quo does not work and that the DPU is not the right agency" to fulfill the legally required safety oversight duties, largely because of the department's other responsibilities regulating the energy industry and the offshore wind sector.
Shapiro suggested creating a brand-new agency focused solely on MBTA safety, with one division in charge of subway operations and the other tasked with reviewing commuter rail, buses -- including at regional transit authorities outside the MBTA -- and ferries.
The new department would need to be fully independent from the MBTA and the Department of Transportation, Shapiro said, and have broad authority to issue subpoenas and enforce any response actions at the T.
"You want somebody who's going to call it as they see it -- the good, the bad and the ugly on this," Shapiro said. "That's what the public wants."
Hamilton indicated he, too, prefers creating a new organization for MBTA safety oversight, describing any transfer of those responsibilities from the DPU to the inspector general as "just passing the MBTA hot potato from one agency to another."
Federal Transit Administration investigators concluded last year that the DPU for years had been falling short of its duties to oversee and enforce safe operations at the MBTA.
In addition to implementing personnel changes at the T, Gov. Maura Healey has also reshaped the DPU. Robert Hanson started in January as the department's first-ever rail transit safety director. In March, Hanson ordered immediate corrective actions after a site visit flagged track defects.
Bingham said she read the entire 90-page FTA report, which came out just a bit less than a year after her son's death. She called it "horrifying" and "further traumatizing."
Since the MBTA crisis exploded into public view last year, the Legislature has steered hundreds of millions of dollars to the agency to invest in safety-related programs and bulk up headcount, but lawmakers have been slower to embrace major policy or oversight changes.
Meanwhile, service deteriorated for months. Weekday service cuts remain in place on the Red, Orange and Blue Lines nearly 11 months after MBTA officials implemented them on a "temporary" basis. After claiming to have addressed some slow zones during a month-long Orange Line shutdown last summer and then slowing travel down while crews redid inspections across the system, T officials now say trains safely cannot run at full speeds on 22 percent of the tracks because of track defects.
That changing narrative drew Shapiro's attention.
The inspector general took aim, without naming any particular individuals or even a specific administration, at the predecessors who ran the MBTA before Healey -- who is four months into her first term -- instilled Phil Eng as general manager.
"A critical foundation for this work is trusted communication from the MBTA and its leadership. Under the prior leadership, communications have often been incomplete, nuanced or silent," Shapiro said in his testimony. "For example, for nearly one year, the traveling public has either been misled about the immediate benefits after the shutdowns or the cause and duration of the slow zones. Or worse, the information conveyed by the MBTA's leadership was thought to be accurate but turned out to be only partially accurate or simply inaccurate. Fixing a system so critical and so damaged can only be done if there is open, accurate and trusted communication with and among the stakeholders -- most especially with the public."
No one from the MBTA or MassDOT testified in-person at Monday's hearing, though Transportation Secretary Gina Fiandaca and Eng submitted a three-page letter to chairs in which they summarized their efforts to rein in speed restrictions, respond to FTA and DPU orders, and hire more workers.
Asked about the oversight reform bills at an unrelated event, Healey said she would "review anything that comes to my desk" and pointed out that MassDOT's first-ever chief safety officer, Patrick Lavin, started work Monday.
The Transportation Committee convened hearings last year to probe the T's failures, a process that concluded with a report whose recommendations -- including action to move MBTA oversight responsibilities from the DPU to another agency -- have yet to pick up momentum. "In that report you all submitted on January 3, 2023, you have a long list of notable events. They're single-spaced, one line, maybe two lines," Bingham told the committee. "It was really chilling to see my son's event on a five-page list. Of course, it should have been there. Of course. But I couldn't help but think about all the other families and communities that that list represents."