What to Know
DEP informed a Blackstone homeowner she was responsible for a heating oil spill that had happened 11 years earlier and two owners prior.
DEP records show the previous homeowners told the agency they did not have the money to pay for the entire cleanup in 2007.
Officials with DEP say they will not pursue enforcement against the homeowner who is filing "financial inability" paperwork with the agency.
It is a construction project no homeowner wants to see: The damage and disruption of a heating oil spill cleanup.
The emergency remediation typically leaves concrete basement floors pulverized as workers shovel up contaminated soil and carry it away in large metal drums.
Long after the jackhammering subsides, the emotional and financial toll of an oil cleanup can persist for months, even years. Especially, when it's unexpected.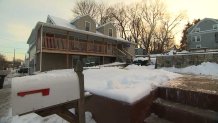 An expensive cleanup was the last thing on Donna Barron's mind when she saved up her money and bought a home in Blackstone for her and her three kids in 2017.
It was a quiet neighborhood on a dead-end street. Barron made some minor improvements around the property, purchased some new appliances, and settled into the new home with her family.
Local
In-depth news coverage of the Greater Boston Area.
"Everything was going great," Barron recalled. "Until I got a letter from the DEP."
The letter in October 2018 was from the Massachusetts Department of Environmental Protection (DEP), which informed Barron her property was considered a "disposal site" because of a heating oil spill that had occurred 11 years and two separate property owners earlier.
According to letter, which described the situation as an "urgent legal matter," the 200-gallon spill from an above-ground storage tank had never been fully cleaned up. Even worse, the letter stated she was responsible for the cost of the cleanup as the current property owner.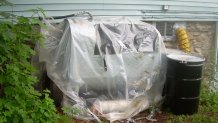 "This was 11 years ago. I didn't own the house. You're kidding me, right?!" Barron reacted.
The old tank in the side yard is long gone. The dirt basement has since been paved, showing no signs or smells of a previous spill. Even more surprising: Nothing was flagged during a title search when Barron purchased the home.
"I was completely blindsided," she said.
DEP records show the previous homeowners told the agency they did not have the money to pay for the entire cleanup in 2007, buying them some time.
They eventually sold the property to a new owner in 2015. It is unknown if the unresolved oil spill was disclosed during that purchase process.
It certainly never came up when she bought the home in January 2017, Barron said.
And then, a decade after its last communication about the spill, staffers at the DEP finally got around to following up, sending the letter that landed in Barron's mailbox.
"It's terrible. It's an injustice to me. I'm an innocent homeowner!" Barron expressed.
The NBC10 Boston Investigators took Barron's situation to Paul Locke, Assistant Commissioner for the Bureau of Waste Site Cleanup at DEP.
Locke called the situation "very unusual," saying the vast majority of heating oil spill cleanups are completed within a year. He admitted the agency dropped the ball by allowing the property to transfer owners twice since its previous communication.
"I think we should've followed up more frequently and I think most of the time we do," Locke said.
The assistant commissioner said DEP tries to balance enforcement of spill cleanups with homeowners who might not have the financial resources to get the full job completed.
When the NBC10 Boston Investigators asked why DEP does not go after the previous owners who never took care of the spill, Locke responded, "The short answer, which is not satisfying, is that's the way the law is written. For oil releases, the responsibility lies with the owner of the property."
In other words, the person who owns the house also owns the problem.
As unfair as that might seem, Barron is stuck with the tab. The estimates she received just to test the soil around her property start at $14,000. If major work is still required to remove contaminated soil that threatens groundwater or neighboring properties, the tab could grow to six figures.
"I put all my money into this house. I don't know how I'm going to pay for this. It's devastating," Barron said.
That brings up another big issue: Barron's insurance has already denied her claim for cleanup costs.
The NBC10 Boston Investigators learned if there is a heating oil spill at a Massachusetts home, there's a good chance that homeowner would get a similar rejection letter, too.
"I've never met a homeowner who isn't shocked," said Susan Crane, an environmental attorney who has helped people cope with heating oil spills for more than 20 years. "Their reactions are beyond description. Homeowners call me crying."
Crane said the typical insurance policy has a pollution exclusion for these types of catastrophes. As a result, she has watched clients clean out retirement savings or college funds for extreme projects that sometimes require moving homes off their foundations.
"The worst cleanups, and I've handled several of them, have been over $1 million," Crane said. "This is financially devastating."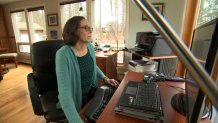 A decade ago, Crane was part of a legislative effort to improve insurance coverage for families affected by heating oil spills. However, she said the law that took effect in 2010 had a loophole: Instead of mandating insurance companies to provide coverage, the statute requires them to "make it available."
That means homeowners have to proactively opt in to the additional coverage. And it seems many of them remain in the dark that the coverage even exists or is necessary.
DEP records show since 2012, there is an average of 118 heating oil spills per year in Massachusetts. Despite an insurance rider that is less than $100 for $100,000 of coverage, only 5 percent of homes with heating oil have the policy.
"I think it has not been well advertised," Locke, the assistant DEP commissioner said. "Outreach needs to be a lot better."
Carl Shapiro is a licensed site professional who is hired by homeowners to oversee heating oil cleanups from start to finish.
He recently gave the NBC10 Boston Investigators an up-close look at the headache after 250 gallons of oil leaked from a rusted hole in a tank at a Roslindale home.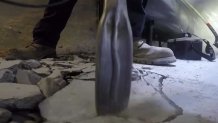 On a cold January morning, a crew of workers swarmed the basement, hanging plastic sheeting to contain vapors, jackhammering cement flooring, testing soil samples, and shoveling out contaminated material.
"When I told the owner about the insurance, she told me she never knew about it," Shapiro said.
In an odd way, Shapiro said homeowners in the insurance predicament have to almost hope the spill reaches neighboring properties, triggering third-party liability coverage.
At the Roslindale home, the owners are already running up a pricey tab on their credit cards.
"They know this is just the beginning and it has already been in excess of $10,000. They are shocked and confused," Shapiro said.
Back in Blackstone, Baron said she's learned the tough lesson that homeowners have to do their own research instead of relying solely on title insurance and real estate attorneys.
The NBC10 Boston Investigators discovered there is a DEP database of all oil spills in Massachusetts where people can look up specific addresses. However, it seems this is not a standard practice during the residential home purchase process.
Barron contacted an attorney to see if she had any recourse. However, the original owners applied for a financial waiver, meaning there might not be many assets to pursue. The fact she did not purchase the home directly from them is another issue when it comes to property disclosures.
As a result, Barron said spending money on a legal battle could prove to be a futile effort.
DEP officials say they will not pursue enforcement against Barron, who is filing "financial inability" paperwork with the agency. Locke said they are exploring a pilot project where DEP can use its own contractors to finish cleanup work. A payment plan can then be arranged with the homeowner to reimburse the agency over a number of years.
Regardless, Barron feels like her major investment is suddenly on very shaky ground.
"It's flipped my life upside down," she said. "I've lost a lot of sleep and been very stressed. It's been a nightmare."
Consumer Takeaways
Get your oil tank inspected and complete any mandatory upgrades
Ask your insurance company about heating oil coverage
If you are looking at a potential home purchase, check DEP database for history at that address or neighboring properties
Ryan Kath can be reached at ryan.kath@nbcuni.com. You can also follow him on Twitter or connect with him Facebook.