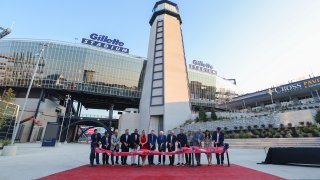 Officials on Thursday unveiled the results of a massive renovation project at Gillette Stadium in Foxborough, Massachusetts - the biggest project since the stadium first opened in 2002.
The North End renovation project included improvements to the entire stadium experience, including a new Gillette Stadium Lighthouse, a new function space overlooking the stadium, a redesigned Enel Plaza, a new Ticketmaster entry canopy, described by officials as the "front door" of the stadium, a remodeled Row of Honor, the Bud Light Celebration Beer Hall, the Pepsi Grab & Go, changes to the Upper concourse for easier movement across the east to west sides, expansion of restroom capacity, and new bars and concession options. And of course, it comes with a new curved outdoor videoboard - the largest at any sports venue in the country.
Let's take a minute to break it down by the numbers.
250 million - the amount of dollars it cost to complete the project
50,000 - the number of square feet in the new G-P Atrium, the function space that overlooks the stadium.
22 - the number of stories in the new Gillette Stadium Lighthouse, which features a 360-degree observation deck with views of Boston and Providence.
2 - the number of fixed cameras available to take keepsake photos at the lighthouse. One is a stationary camera at the lighthouse to take a hands-free photo, and a second is mounted in the stadium to get a view of visitors on the observation deck. Of course, you can also take the selfie route!
Local
In-depth news coverage of the Greater Boston Area.
160 - the number of lighthouses in New England. The Boston Globe reports that the new Gillette Stadium Lighthouse is the tallest.
22,000 - the square footage measurement of the radius of that new video board.
5 - the amount of dollars needed to visit the lighthouse, which opens to the public on October 1. (Kids 10 and under, active military, veterans, first responders and Patriots and Revolution Season Ticket Members get in free).
  "When we built Gillette Stadium in 2002, we were intentional in making sure the space would be able to grow and evolve to meet the needs of our fans.  I am proud, that over the last twenty years, our first priority has been to provide the best guest experience possible for all visitors to the stadium and this project will transform and upgrade the fan experience at Patriots games, Revolution matches, concerts and special events for years to come," Patriots Owner Robert Kraft said in a press release.
The Kraft Group partnered with Anheuser-Busch, Enel, G-P, Gillette, Pepsi, Populous, Suffolk Construction, and Ticketmaster on the project.