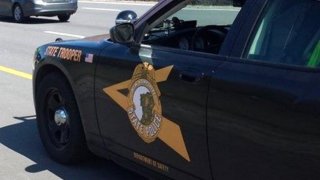 A woman was injured early Saturday morning while on Interstate 93 in Bow, New Hampshire, state police said.
New Hampshire State Police received a call around 10 a.m. for an injured pedestrian on I-93 northbound in Bow. Troopers who responded to the scene determined that Donna Dekow, 68, of North Andover, Massachusetts, was driving a Porsche SUV when she got out of her vehicle onto the highway.
According to police, Dekow was not struck by another vehicle but she did sustain injuries from her fall. She was taken to Concord Hospital for treatment.
Dekow's Porsche, without a driver behind the wheel, continued moving north on I-93 for approximately a quarter mile when it crashed into a Honda that was being driven by Udaya Gurung.
Gurung, 50, of Hooksett, NH, and his passenger were not injured in the crash, state police said.
Dekow's SUV was towed from the scene. Police have not said why she got out of her vehicle, or why she wasn't able to put it into park.
The incident remains under investigation. Anyone who witnessed it or has any information is asked to contact Trooper Kaylee Surber at Kaylee.A.Surber@dos.nh.gov.