Firefighters battled a large fire at a metal recycling plant in Everett, Massachusetts, on Wednesday morning.
The fire was reported shortly after 8 a.m. on Rover Street. It appeared to be in an industrial building with the name Schnitzer on the side. Surrounding the building are what appear to be piles of scrap metal.
Schnitzer Northeast, a metals recycling company, lists its address as 17 Rover Street. A similar fire broke out at the plant in 2016, The Boston Globe reports.
The NBC10 Boston Investigators searched for violations at the Schnitzer facility dating back 10 years on the federal Occupational Safety and Health Administration website.
Since 2011, there have been four separate incidents at the plant that resulted in 11 total OSHA violations and $52,000 dollars paid in fines. The largest involved a complaint in 2011 where multiple workers were injured working inside a large rotation drum, according to a press release from OSHA. That incident resulted in six violations and $35,000 in fines.
Schnitzer issued a statement Wednesday saying that no injuries have been reported. "We are working closely with the Fire Department to bring the situation to a safe conclusion," they added.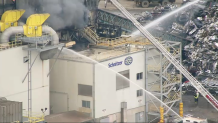 Flames and very heavy smoke could be seen coming from the building. Huge plumes of smoke could also be seen from as far away as the Massachusetts Turnpike.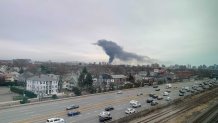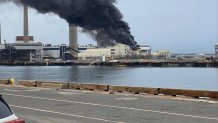 "Basically, I looked out the window and I just saw a huge cloud of black smoke and I immediately knew that's a fire," said Adam Lewis, who saw the fire from Chelsea. "This whole area right here was literally black and gray smoke. That's where my interest was piqued because that's when I realized, 'Oh no, this is big.'"
Everett police urged people to avoid the areas of Robin and Dexter street in the Island End industrial area due to the fire.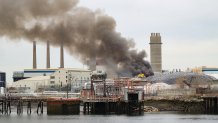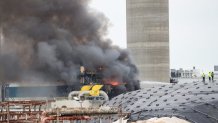 No further information was immediately available.