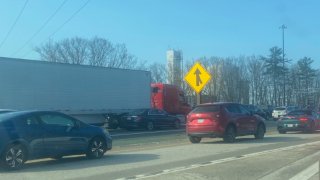 Hourslong delays were reported on the Piscataqua River Bridge on Interstate 95 from New Hampshire to Maine on Thursday morning due to police activity.
Maine State Police said they were called to an incident around 6:30 a.m. involving an individual on the northbound side of the bridge. The bridge was shut down in both directions but reopened fully around 11 a.m.
Police said they had safely taken an individual into protective custody and taken him to a local hospital. His name is not being released, but he is a resident of New Hampshire.
Authorities said it is too soon to say whether any charges will be filed.
Maine State Police later clarified that the reason they chose to shut down the bridge wsa for the safety of the individual, who was experiencing a mental health crisis.
Apparently the man had jumped from the bridge to the jersey barriers, then onto the catwalk underneath the bridge, narrowly avoiding a 100-foot fall.
At first, only the northbound lanes were shut down, but when crisis negotiators trying to speak with the man were unable to hear him because of the traffic noise a decision was made to shut down the entire bridge.
"Traffic was backed up for 6 miles into both Maine and New Hampshire. We understand that the public was inconvenienced but we would like to thank them for their patience which helped contribute to a successful outcome," Maine State Police said in a statement.
Assisting Maine State Police at the scene were New Hampshire State Police, Portsmouth police and fire, the Maine Turnpike Authority and the New Hampshire Department of Transportation.
More New Hampshire and Maine stories