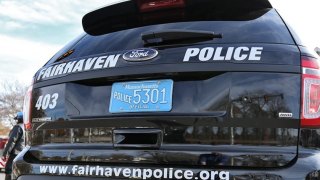 A man from Fairhaven, Massachusetts, died Sunday night after he crossed over into oncoming traffic and crashed into an SUV, according to Bristol County authorities.
The man who died was identified by the Bristol County District Attorney's Office as 59-year-old George Thatcher.
The crash happened near the intersection of Main Street and Hedge Street in Fairhaven, a news release said. Police got a 911 call about the wreck at around 7:10 p.m. Sunday. Thatcher was driving southbound on Main Street in a red Chevrolet sedan, when he crossed over into oncoming traffic, hitting a Toyota Rav4, authorities said.
The Toyota was being driven by a man, with his wife and two young children in the car. All four of them were taken to Saint Luke's Hospital in New Bedford to be treated for minor injuries.
Thatcher was also taken to that hospital, where he was pronounced dead upon arrival.