A Boston man is under arrest after allegedly stealing a dog from a parked car in Cambridge, Massachusetts.
According to police, the suspect broke into a car that was parked on Memorial Drive shortly after 12 p.m. on Friday and stole the 13-month-old white German Short Haired Pointer.
"I came back to the car and he was gone," said owner Greg Sieczkiewicz.
The man has been identified as Kyle Gariepy, 29, who claims he grabbed the wrong dog — but police say he will face charges of alleged larceny and breaking and entering.
Gariepy Saturday afternoon returned to the area where the dog was reported stolen, according to police. Another person at the scene spotted the animal, spoke with Gariepy and notified the police.
The dog was returned in good health, police report.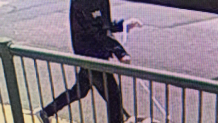 "It sounds like it was just a misunderstanding and the wrong dog, but he's the right dog for me," Sieczkiewicz said.
Local
In-depth news coverage of the Greater Boston Area.
Cambridge Police had released surveillance photos of a man walking the dog over the Boston University Bridge into Boston. The images of the dog matched reports of it wearing an orange collar with the name Titus.
And upon his reunion with Titus, hugging him close, Sieczkiewicz said, "You're never coming out of my sight."