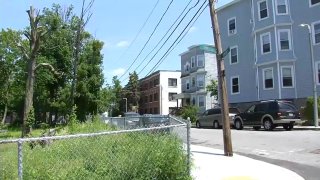 Boston police homicide detectives have arrested a New Hampshire man in connection to a fatal shooting in the city's Dorchester neighborhood Sunday night.
Ira Grayson, 35, of Manchester, was arrested around 10 a.m. Monday and charged with murder and unlawful possession of a firearm.
Police allege Grayson shot 33-year-old Stacy Coleman around 8:30 p.m. on Danube Street near Roxbury. Responding officers found Coleman at the scene suffering from an apparent gunshot wound. He was taken to a local hospital with critical injuries. Police said Monday that he had died. They released his name on Tuesday.
A second victim from the incident went to a Boston hospital on his own, and his injuries appear to be non-life threatening, police said.
Several people placed 911 calls to report the shooting, police said.
It's unclear what led up to the shooting, or if the suspect and victims knew each other. An investigation is active and ongoing.
Anyone with information is asked to call the Boston Police Department at 617-343-4470, or to leave an anonymous tip by calling 1-800-494-TIPS or by texting the word "TIP" to 27463.
Local
In-depth news coverage of the Greater Boston Area.
Grayson is expected to be arraigned in Roxbury District Court. It was not immediately clear if he has an attorney.