A man was found dead inside a home that caught fire in Natick, Massachusetts, early Tuesday morning, fire officials said.
The man was initially reported as being trapped inside the single-family home, but firefighters couldn't get into the building when they arrived at the scene of the 3-alarm blaze on Longfellow Road around 2 a.m., Natick Fire Chief Michael Lentini said.
Video from the scene showed flames and heavy smoke pouring from the home.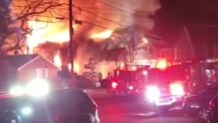 Officials said they believe the fire started in the back of the house, which is where the man's body was found. His name has not been released.
"There were neighbors in the back that saw the fire," Lentini said. "We believe the fire started in the rear of the house and neighbors saw the fire and made the call."
One other resident of the home was able to escape.
Local
In-depth news coverage of the Greater Boston Area.
"I have to say, it gives you pause. It could have been anybody's home," neighbor Brad Harding said.
Jim Spencer shot cell phone video of the scene. He said by the time he got up to see what was going on, the fire had already spread throughout the entire home.
"It was pretty bad, and it's a new house -- fairly new, only a couple years old. We didn't know the neighbors. Never met them," he said.
No further information was immediately available. The cause of the fire remains under investigation.