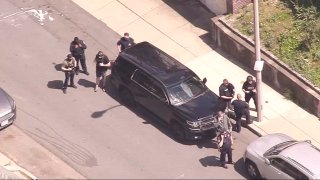 A man suspected of shooting his brother in the face over the sale of their family's home in Boston's Mattapan neighborhood nearly two years ago was arrested this weekend, prosecutors said.
Trevor Lawrence, a 32-year-old from Mattapan, was arrested during a drug investigation in Dorchester on Saturday, according to a release from the Suffolk County District Attorney's Office Tuesday. He appeared in Boston Municipal Court Monday to face charges including armed assault with intent to murder and assault and battery.
The shooting took place in the afternoon of May 14, 2021, at a home on Westmore Road. Police found a 38-year-old man who'd been shot in the face, prosecutors said.
After he was rushed to Boston Medical Center for treatment, the man told detectives that he and his brother had disagreed about selling the family home and that, when he tried to take pictures of the second floor, Lawrence took out a gun and shot him, prosecutors said.
Detectives found a loaded pistol at the home and a box with almost four dozen bullets. According to prosecutors, police got an arrest warrant for Lawrence but he wasn't located until a drug investigation unit arrested him on Saturday.
A judge ordered Lawrence held without bail until a dangerousness hearing on Thursday, prosecutors said. It wasn't immediately clear whether Lawrence had an attorney who could speak to the charges.