Dozens of rallies, marches and vigils were held Friday and are planned throughout the weekend in Massachusetts to mark Juneteenth, the traditional commemoration date of the end of slavery in the U.S.
"Juneteenth, for me, is a celebration of Black history," activist Monica Cannon-Grant recently told NBC10 Boston. "It's still going to be the day that we were semi-free, it's just that slavery and racism just look different in 2020. As a Black person living in the city of Boston in Massachusetts, we're not free."
In Milton, hundreds of people protested Friday to end educational racism after Pierce Middle School teacher Zakia Jarrett found herself on adminstrative leave over a recent lesson.
"We were examining racism and poetry and comparing the poem 'I to' that was written in 1925 to what's happening now in 2020, and I said that many cops are racist, and somebody video'd 13 seconds of my lesson and distributed it to a lot of people," she explained.
The district withdrew its decision to place Jarrett on leave the very same day. But making the decision to begin with was something she and those who rallied Friday found questionable.
"The person who weaponized my lesson violated a policy of the school, and they were not punished, but I was, so it made me feel as though the school district is not the place for an educator like me," she said.
Labor union groups led an automobile caravan from Boston's Dorchester Municipal Court to a neighborhood playground as part of the nationwide Drive to Justice campaign, which seeks changes in policing and other measures after George Floyd's killing by police in Minneapolis.
Black Lives Matter organizers staged an afternoon rally in a Dorchester park to call for an end to "mass incarceration and over-policing" of communities of color. They asked attendees to wear green, red or black clothing in a show of support.
That event was followed a few hours later by a "musical speakout" against police brutality and racism at another Dorchester park. Organizers with Mass Action Against Police Brutality said "Funk the Police — Juneteenth Edition" would spotlight families that have lost loved ones to police violence.
Mayor Marty Walsh held a ceremony where the green, red and black Juneteenth flag was raised at City Hall.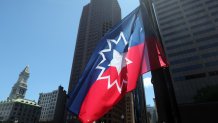 Other Juneteenth marches were planned in the wealthy Boston suburbs of Newton and Brookline, as well as in Brockton, a city near Rhode Island with a large Black community.
Meanwhile in Lawrence, a predominantly Latino city on the New Hampshire state line, Democratic Mayor Daniel Rivera closed City Hall and other administrative buildings Friday. He also submitted a proposal to the City Council to make Juneteenth an official city holiday.
Black organizers and activists spoke with NBC10 Boston this week about the history of Juneteenth in Boston and why this year feels different in the wake of Floyd's death and in the middle of the coronavirus pandemic.
"Who wants to celebrate slavery, you know? Put that behind us, forget that," said Jumaada Smith, chairperson of the Boston Juneteenth Committee. "But then there was a school of thought that, you know, we have a history. We have to realize what happened to us. Everybody came over on a boat but we came over in a different way."
"The emancipation of Black Americans has been a process," said Edmund Barry Gaither, a museum director and curator of the National Center of Afro-American Artists.
Walsh has said he would support Juneteenth being made an official holiday amid a nationwide push, but said the decision needs to be made at the state level.
"Every year, we look forward to joining together with our communities to celebrate and recognize Juneteenth in Franklin Park and other places," he said. "While we can't gather in person this year, I invite all Boston residents to take time today to recognize and celebrate this day, and the Black Americans who lead the way in resisting slavery, demanding freedom, and calling our nation to justice. I continue to stand with our Black residents in recommitting Boston to breaking the chains of systemic racism in our city and country."
Juneteenth gets its name from the combination of June and Nineteenth and is celebrated annually on June 19. It's also called Emancipation Day and Freedom Day. Abraham Lincoln signed the Emancipation Proclamation on Jan. 1, 1863, announcing enslaved people "shall be then, thenceforward, and forever free," but the proclamation didn't immediately apply in certain areas, including secessionist states like Texas, which had left the Union and joined the Confederacy during the Civil War.
It took another two years for the change to be enacted in Texas. The Civil War ended in April 1865 and two months later, on June 19, 1865, Maj. Gen. Gordon Granger of the Union Army issued General Order No. 3 in Galveston, Texas, with Granger saying, "The people of Texas are informed that, in accordance with a proclamation from the Executive of the United States, all slaves are free."
The City of Boston has compiled a list of resources including activities for students, books, articles, documentaries and films, podcasts, YouTube videos and more to help people understand the history and meaning of Juneteenth. Residents can also take part in the celebration by supporting Boston's Black and Brown owned businesses, or joining the conversation on social media with the hashtag #IamJuneteenth.
---
Upcoming Juneteenth Events
Saturday, June 20
Lynn Prevent the Cycle: Simultaneous demonstrations, sponsored by the North Shore Juneteenth Association, will be held in Wyoma Square, Market Basket Rotary, Lynn City Hall, Red Rock Park, Boston Street Stop and Shop, and Central Square at 11 a.m.
Hampton NH Stand Up to Racism: A protest to denounce racism is planned from 12 to 1:30 p.m. at the Boardwalk Café, 139 Ocean Blvd, Hampton Beach, NH.
Cambridge Defend Black Lives: A rally to support Black communities is scheduled for 1 p.m. Demonstrators will march from the Cambridge Common to Kendall Sq., Cambridge.
Rockland Black Lives Matter: A rally in solidarity with Black Lives Matter is slated for 2 p.m. at Union and Market Streets in Rockland.
Boston Peoples Forum: A People's Forum to create space for people to talk about the rallies over the last two weeks will be held at 3 p.m. at Playstead Field, Franklin Park, Boston.
Sunday, June 21
Boston Fight for Justice: A March and Speak Out, hosted by the Answer Coalition Boston and PSL Boston - Party for Socialism and Liberation, is scheduled from 4 to 6:30 p.m. in Franklin Park, Boston.
Monday, June 22
Roxbury Juneteenth for Rayshard Brooks: Violence In Boston Inc. and Black Lives Matter Boston will host a march from the Reggie Lewis Track and Athletic Center to the State House demanding that Gov. Charlie Baker reallocate funding from police to social justice and violence prevention from 2 to 5 p.m. at the Reggie Lewis Track and Athletic Center in Roxbury.
West Roxbury Vigil: A weekly vigil for Black Lives is scheduled at 5:30 p.m. in the Holy Name Rotary, West Roxbury.
The Associated Press contributed to this report.
More Coverage: Juneteenth
There's been a renewed push by individual states and a growing number of corporations to recognize Juneteenth, which commemorates the end of slavery in the United States, as an official holiday.