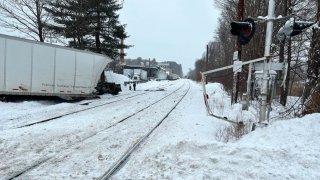 Emergency crews are responding after an MBTA commuter rail train hit a tractor-trailer in Littleton, Mass. Friday, according to Littleton police.
Police said the King St. extension railroad crossing is closed for the investigation.
MBTA Transit police said there were no serious injuries, but there is substantial damage to the tractor-trailer and the cleanup will cause delays on the Fitchburg line.
This is the same line where a different train hit a small sidewalk plow on the tracks earlier Friday.
This is a developing story. Check back for updates.
Sign up for our Breaking newsletter to get the most urgent news stories in your inbox.