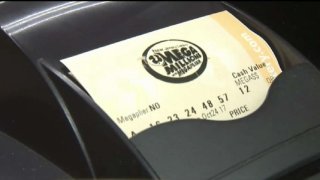 A Mega Millions ticket that was sold in a small western Massachusetts community won a $31 million jackpot prize during Tuesday's drawing, according to the Massachusetts Lottery.
The ticket was sold at a Stop & Shop store in Belchertown, according to a news release. The winning numbers are 33-41-47-50-62, MegaBall 20.
A Mega Millions jackpot hasn't been hit in Massachusetts since 2012, and this is the fourth jackpot in the game to hit in the Bay State since 2002.
Prize winners have a year to claim their money, which they must do at the Massachusetts Lottery headquarters in Dorchester.
The grocery store where the ticket was sold will get a $50,000 bonus.